Petismo e antipetismo no Brasil atual, por Marcos Coimbra, presidente do Instituto Vox Populi
Disponible en español | Available in English
Publicado em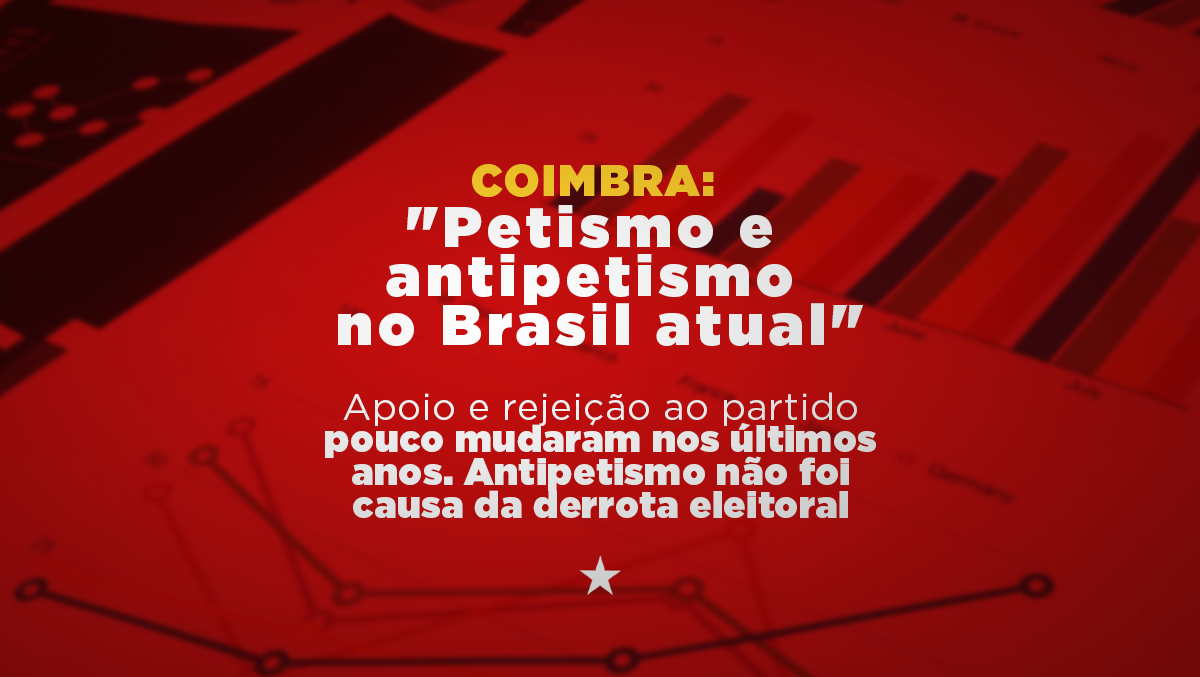 Petismo y antipetismo en el Brasil actual
Por Marcos Coimbra, presidente del Instituto VOX Populi
Hace poco menos que veinte años, Duda Mendonça, el profesional de comunicación electoral más importante de Brasil, propuso una formulación simple para la discusión de las identidades políticas en el país: "En Brasil, de cada tres personas, una es petista, la segunda es antipetista y la tercera es neutral, no siendo ni una cosa ni la otra".
En octubre pasado, en vísperas de la elección que vencería Bolsonaro, una encuesta del instituto Vox Populi preguntó a los entrevistados cómo se sentían con relación al PT. Una proporción del 10% respondió que "detestaba el PT" y otros 19% dijeron que "no les gustaba el PT, pero no llegaban a odiarlo". Del otro lado, un 8% afirmó que "eran petistas" y un 21%, que "les gustaba el PT, pero no se sentían petistas". Entre los restantes, el 38% dijo que "no les gustaba no les disgustaba el PT" y un 4% no contestó. Las primeras cinco opciones de respuesta fueron leídas a los entrevistados.
Según tales resultados, y definidos en estos términos, "antipetismo" (la suma de las dos primeras respuestas) y "petismo" (la suma de las dos siguientes) tendrían el mismo tamaño: 29% del electorado. La "neutralidad" no sería muy diferente: 38%. Como se ve, números muy similares a los de veinte años atrás.
Entre el Brasil en el que pensaba Duda Mendonça y el del año pasado, las diferencias son grandes. A principios de los años 2000, Lula se preparaba para disputar la cuarta elección presidencial, en medio del fracaso popular del segundo gobierno de Fernando Henrique Cardoso. Venció aquella elección y se convirtió en el presidente con la mejor evaluación de la historia del país. Venció también la elección siguiente y estableció las bases para las dos victorias de Dilma Rousseff.
En 2018, Lula estaba preso como consecuencia de un golpe civil y prohibido de actuar en las elecciones, en función de un golpe militar velado. El PT lanzó la candidatura de Fernando Haddad cuando faltaban tres semanas para la primera vuelta, en medio de ataques continuos de la gran prensa nacional, que, al mismo tiempo, preservaba a Bolsonaro.
En países como Brasil, en los que el voto es obligatorio y existe un multipartidismo exacerbado (actualmente, con 35 partidos registrados y más de 79 aguardando registro), hay dos maneras de calcular el tamaño de la base social de cada uno. La primera es preguntar directamente al elector con cuál partido se identifica o por cuál tiene simpatía, así como por cuál tiene menos identificación o simpatía. La segunda es tratar de situarlo respecto a cada uno (o a los más relevantes), en una escala cuyos puntos van de mayor afinidad o proximidad a mayor rechazo o distancia.
En el Cuadro 1, a continuación, podemos ver las respuestas obtenidas en encuestas del instituto Vox Populi, entre 1989 y 2018, a la pregunta: "¿Tiene usted simpatía por algún partido político? (Si sí) Cuál, en primer lugar?"
Cuadro 1: Simpatía partidaria en Brasil
1989 – 2018
Fuente: Vox Populi, encuestas nacionales.
En el cuadro 2, podemos ver lo inverso, las respuestas relativas a la falta de simpatía o al rechazo partidario, en encuestas de Vox Populi realizadas entre 1998 e 2018.
Cuadro 2: Rechazo partidario en Brasil
1998 – 2018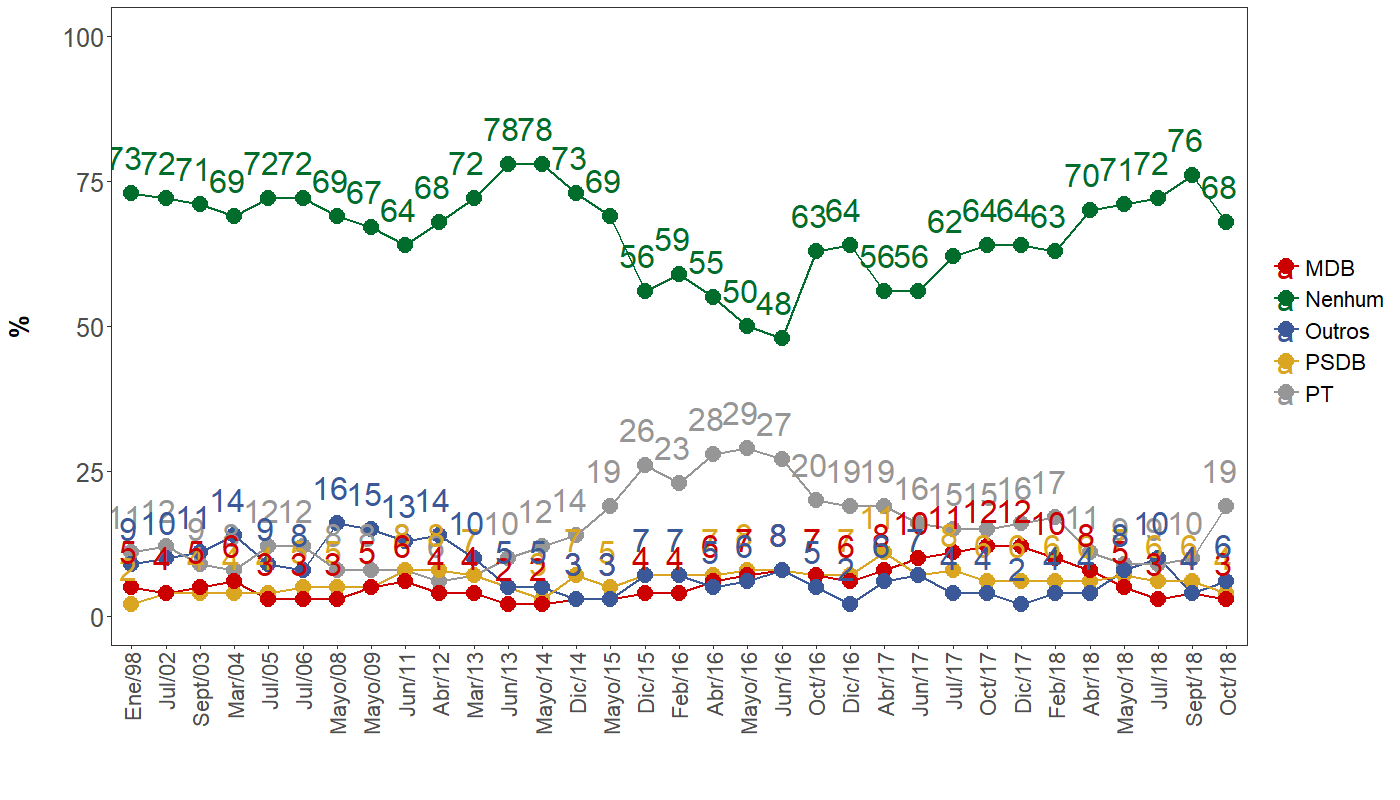 Fuente: Vox Populi, encuestas nacionales.
Para fines de comparación, podemos ver, en el Cuadro 3, a continuación, como se comportan las líneas de evolución de los resultados de las encuestas Vox Populi comparadas con las del instituto Datafolha. En este caso, la pregunta siempre ha sido: "¿Cuál es el partido político de su preferencia?"
Cuadro 3: Simpatía/preferencia partidaria por el PT: comparación Vox Populi y Datafolha
1994 – 2018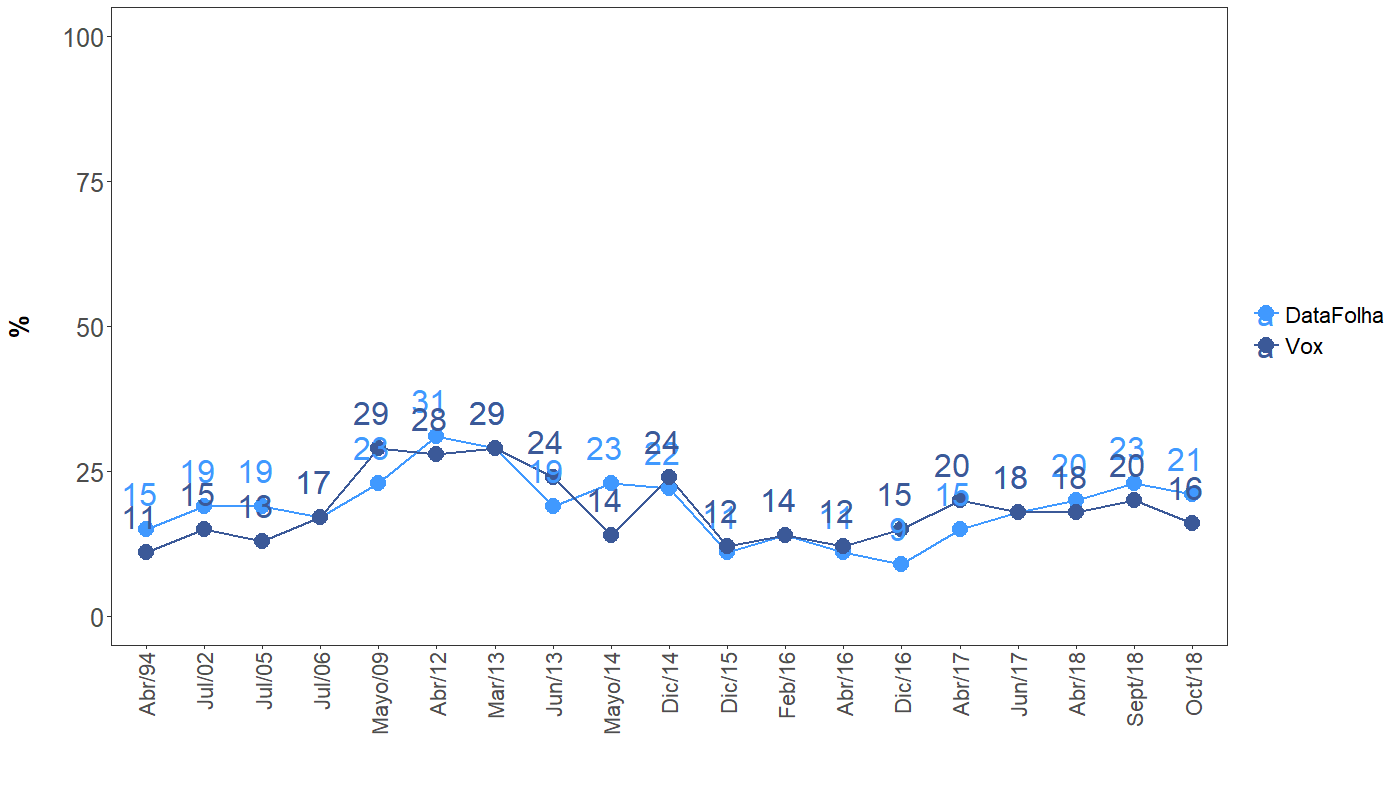 Fuentes: Vox Populi, encuestas nacionales y Datafolha: Zucco, C. e Samuels, D. "Petistas e antipetistas: PT domina a cena das preferências partidárias no Brasil", in Blog do Ibre, 2/8/2018.
El retrato que muestran ambas líneas es igual:
A partir de fines de los años 1980, el PT se volvió el mayor partido brasileño
Su número de simpatizantes casi se duplicó al inicio del primer gobierno Lula
El pico de preferencias fue alcanzado durante el primer gobierno de Dilma Rousseff, después de los ocho años de gobierno Lula
Los movimientos por los cuales pasó la sociedad brasileña en 2013 y el recrudecimiento de las denuncias contra el PT entre 2012 y 2013 afectaron esas preferencias, pero el partido se recuperó en 2014, llegando a la victoria con la reelección de Dilma.
Su punto más bajo se alcanzó en la crisis del segundo gobierno Dilma
El PT volvió a recuperarse después del golpe del impeachment de Dilma, retomando su tamaño histórico.
El mismo patrón puede ser observado cuando la pregunta se refiere al grado de afinidad/distancia respecto al partido. En el Cuadro 4, a continuación, vemos las respuestas a la pregunta: "¿Cuál de las siguientes frases describe mejor su sentimiento con relación al PT?" (con opciones leídas al entrevistado), a partir de 2015, cuando pasó a ser incluida en los cuestionarios.
Cuadro 4: Sentimientos con relación al PT
2015- 2018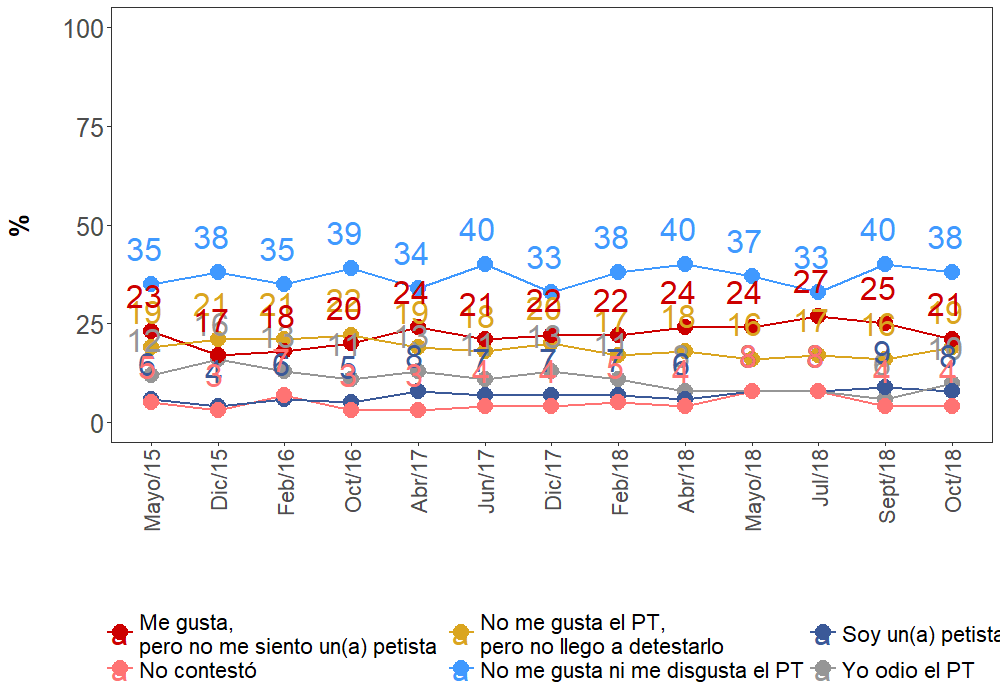 Fuente: Vox Populi, encuestas nacionales
Los números sugieren que el antipetismo radical, que muchos observadores consideran como un rasgo característico de la cultura política brasileña reciente, es un fenómeno relevante, pero mucho menor que lo que se suele imaginar. En pleno período de elecciones, con los ánimos exacerbados por la polarización, tan solo 10% de los electores afirmaba que rechazaba fuertemente al PT. Casi la misma proporción de los que se decían "petistas".
Buscando más claridad, podemos agrupar las respuestas afirmativas y negativas, como está en el  Cuadro 5, a continuación:
Cuadro 5: Sentimientos con relación al PT, agrupados
2015- 2018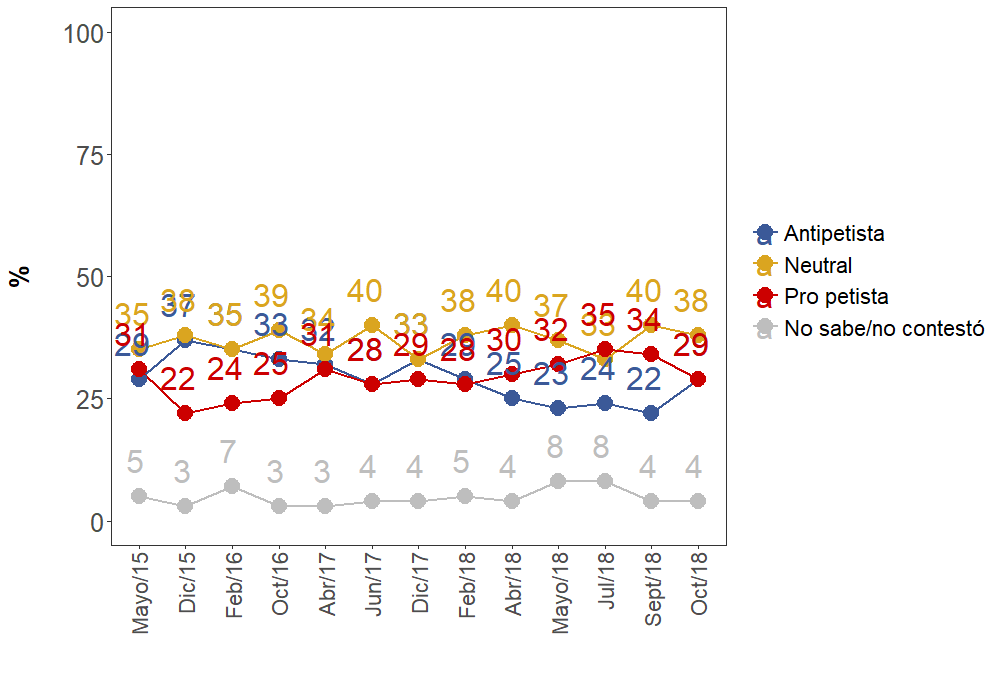 Fuente: Vox Populi, encuestas nacionales
Los dos últimos cuadros permiten ver que el punto más elevado que el antipetismo alcanzó fue en diciembre de 2015, a fines del primer año del segundo mandato de Dilma, cayendo después del impeachment y de la prisión de Lula. Indican además que los sentimientos favorables al partido estaban en alta en el entrada de la recta final de las elecciones.
Al contrario de lo que imaginan algunas personas, a pesar de que el antipetismo creció en los días finales, las encuestas muestran que la victoria de Bolsonaro no fue consecuencia de un aumento significativo del rechazo al PT en el momento decisivo del proceso electoral.
En el Cuadro 6, podemos ver los resultados de las respuestas a la misma pregunta en el tracking poll diario realizado por Vox Populi antes de la primera vuelta.
Cuadro 6: Sentimientos con relación al PT, agrupados
Septiembre a octubre, 2018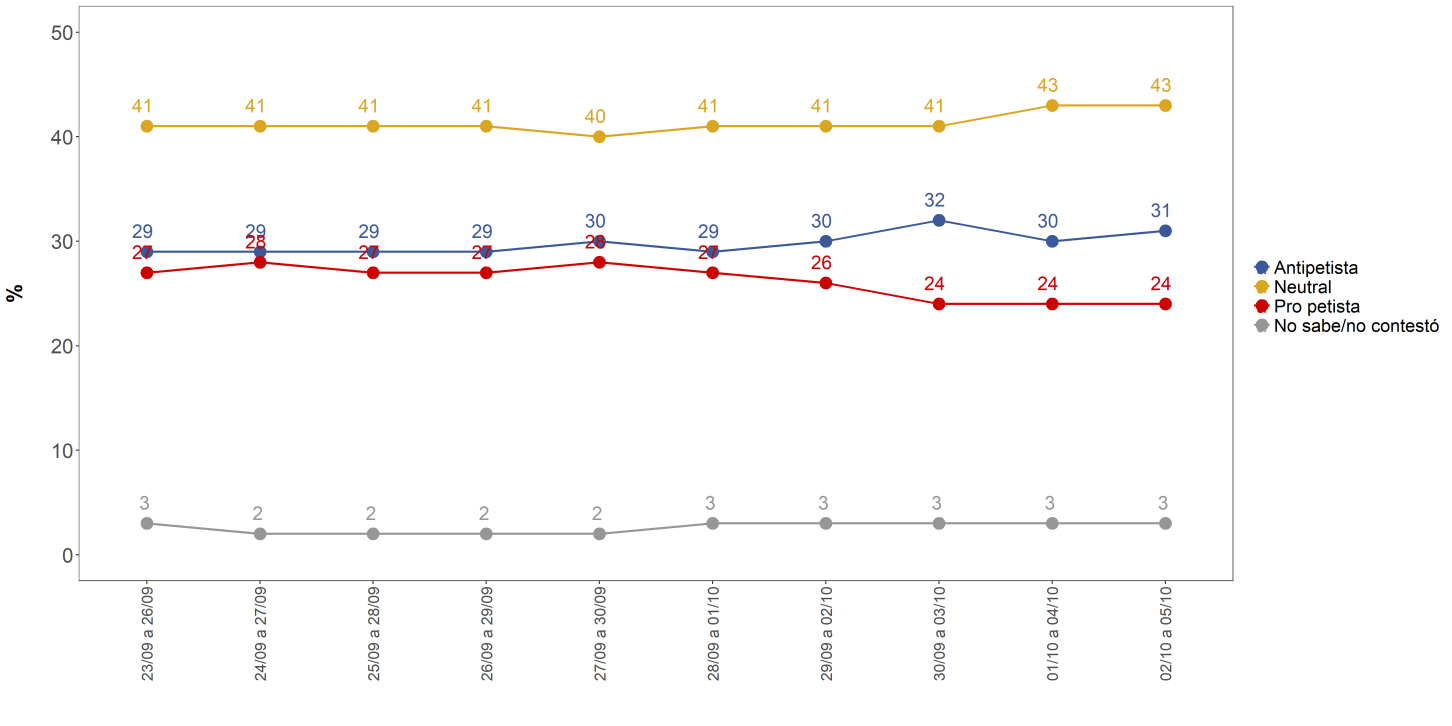 Fuente: Vox Populi, tracking poll diario, sep/oct 2018
Es visible que, aunque los sentimientos pro PT cayeron un poco en los últimos días, el antipetismo no subió. Desde el punto de vista de las actitudes con respecto al PT, esa recta final estuvo marcada por la estabilidad.
La razón más importante de la derrota de Fernando Haddad no fue, por lo tanto, según todo indica, el antipetismo, sino la fabricación, por medios fraudulentos, de un rechazo personal al candidato. Hay amplia evidencia de la utilización ilegal del WhatsApp para alcanzar a algunos sectores del electorado, en especial el electorado evangelista.
En los Cuadros 7 y 8, podemos ver como evoluciona, en ese período, el proceso de toma de decisiones de voto entre electores católicos y evangelistas. A través de ellos, se observa que el voto católico permaneció estable, mientras que el evangelista cambió de manera enteramente anormal.
Cuadro 7: Evolución de las intenciones de voto en Bolsonaro y Haddad entre electores  católicos
Septiembre a octubre, 2018
Fuente: Vox Populi, tracking poll diario, sep/oct 2018
Cuadro 8: Evolución de las intenciones de voto en Bolsonaro y Haddad entre electores  evangelistas
Septiembre a octubre, 2018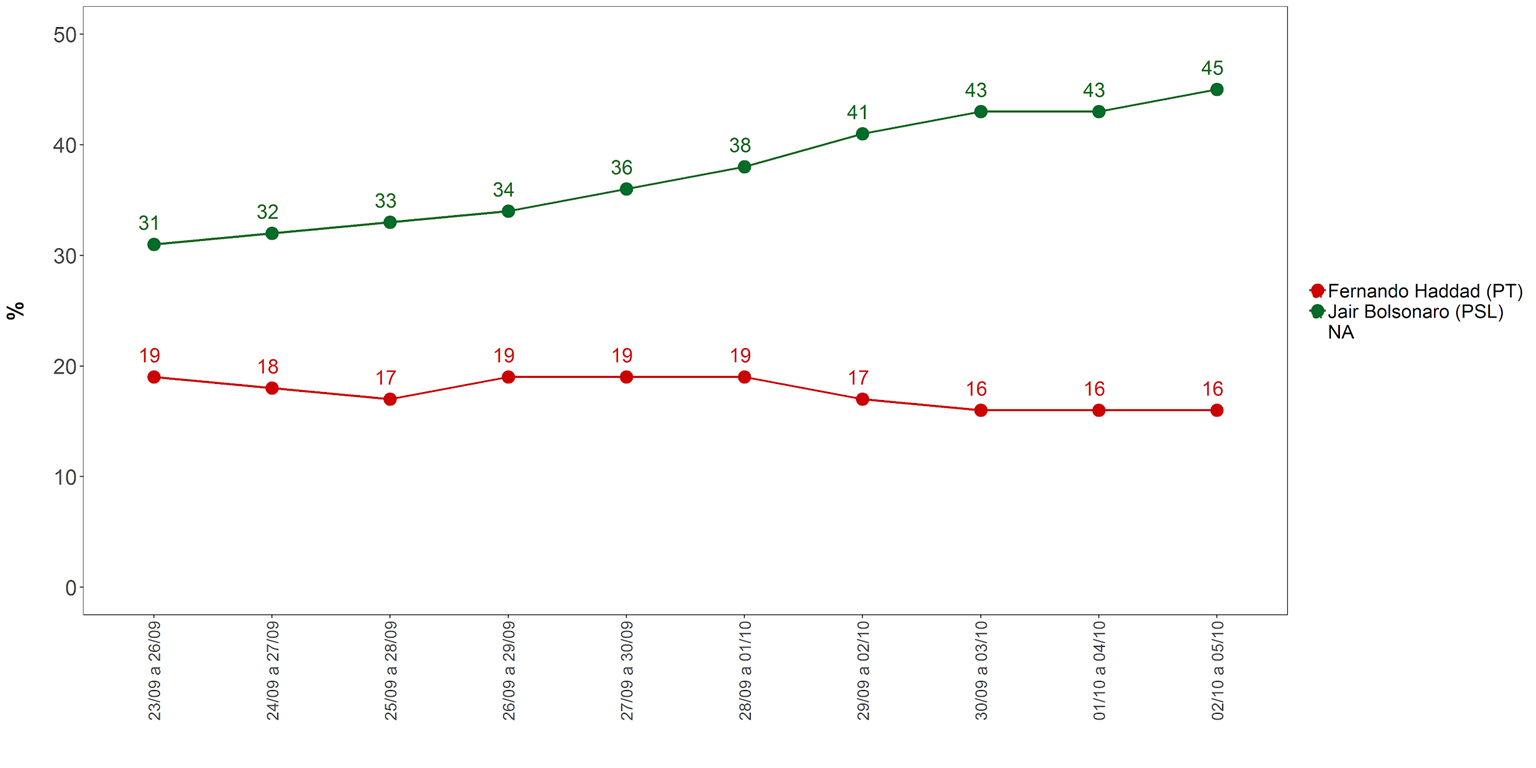 Fuente: Vox Populi, tracking poll diario, sep/oct 2018
Hay sospechas del uso de listados de electores evangelistas provistos por líderes de iglesias neopentecostales implicadas en la campaña de Bolsonaro, que permitieron el envío de mensajes altamente negativos contra Haddad, acusándolo, entre otras cosas, de pedofilia. La estimación es de que el público objetivo de esa campaña haya llegado a 20% del electorado.
Haddad perdió porque fue víctima de un ciberataque inmoral e ilegal desde el punto de vista de la legislación brasileña, y no por el antipetismo.
Hay que considerar, sin embargo, un aspecto que los números presentados sugieren. Aunque la vieja distribución del electorado brasileño en los tres segmentos señalados por Duda Mendonça prevalece, esto es, antipetistas y petistas básicamente equivalen en número, pese a todo el desgaste por el cual pasaron Lula y el PT y a la oposición sistemática de la prensa corporativa contra ambos, los datos apuntan hacia la necesidad de que el PT refuerce el diálogo con el electorado neutral y apartidario.
La incapacidad de liderazgo legítimo de Bolsonaro y el gobierno incompetente que realiza aumentan la chance de que ese diálogo sea exitoso. Por más lamentable que haya sido el resultado de la elección de 2018, parece que la democracia brasileña se recuperará de ese tropiezo más rápidamente de lo que temíamos.
---
Petismo and antipetismo in present Brazil
For Marcos Coimbra, Vox Populi Institute President
Roughly twenty years ago, Duda Mendonça, the most important Brazilian electoral campaign communications professional, proposed a simple formula for the debate over political identities in the country: "In Brazil, one out of three people is a petista, the second one is an antipetista, and the third one is neutral, neither one nor the other."
Last October, on the eve of the election that Bolsonaro would win, a survey by institute Vox Populi asked respondents how they felt in relation to the PT.1 10% of the respondents said they "hated the PT" and another 19% said they "did not like the PT, but did not really hate it." On the other side, 8% stated they "were petistas" and 21% answered that they "liked the PT, yet did not feel they were petistas". Among the remainder, 38% said they "neither liked nor disliked the PT", while 4% did not answer. The first five answer options were read to the respondents.
According to these findings and defined in such terms, "antipetismo" (the sum of the first two answers) and "petismo" (the sum of the following two) would be the same size: 29% of the electorate. "Neutrality" was not much different: 38%. As can be seen, the results are very similar to those of 20 years ago.
Between the Brazil mused upon by Duda Mendonça and last year's, the differences are enormous. In the early 2000s, Lula was preparing to run in his fourth presidential election amid the disapproval ratings of the second Fernando Henrique Cardoso administration. He won that election only to become the best-rated president in the history of the country. He won the next one, too, and laid the cornerstones for Dilma Rousseff's two victories.
In 2018, Lula was under arrest by a civilian coup and banned from the election as a result of a disguised military coup. The PT launched Fernando Haddad's candidacy only three weeks before the first round, amid ongoing attacks by the big national media, which, meanwhile, spared Bolsonaro.
In countries like Brazil, where voting is mandatory and multipartisanship is exacerbated (presently there are 35 registered parties, while more than 79 are awaiting registration), there are two ways of estimating the size of each party's social base. The first one is to ask the voters themselves which party they identify with the most or feel greater sympathy for, as well as the party they identify less with or have less sympathy for. The second one is to seek to situate voters in relation to each party (or to the most important parties), in a scale whose points range from the greatest sympathy or proximity to the greatest rejection or distance.
In Graph 1 below, we can see the answers collected by polling firm Vox Populi between 1989 and 2018 to the question, "Do you have any sympathy for any political party? If yes, which one is first?"
Graph 1: Party sympathy in Brazil
1989 – 2018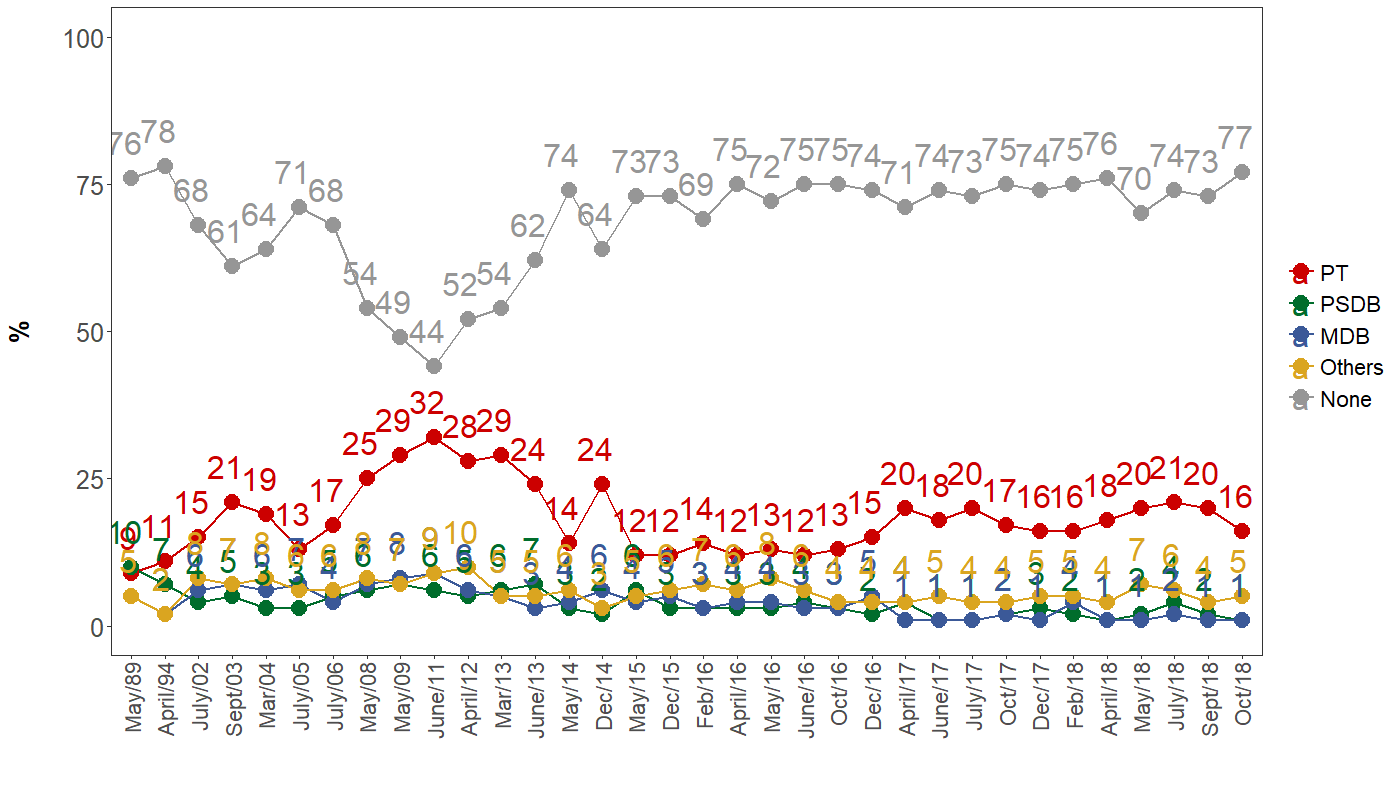 Source: Vox Populi, national surveys.
In Graph 2, we see the opposite, the answers concerning lack of sympathy or party rejection in surveys conducted by Vox Populi over the same period.
Graph 2: Party rejection in Brazil
1998 – 2018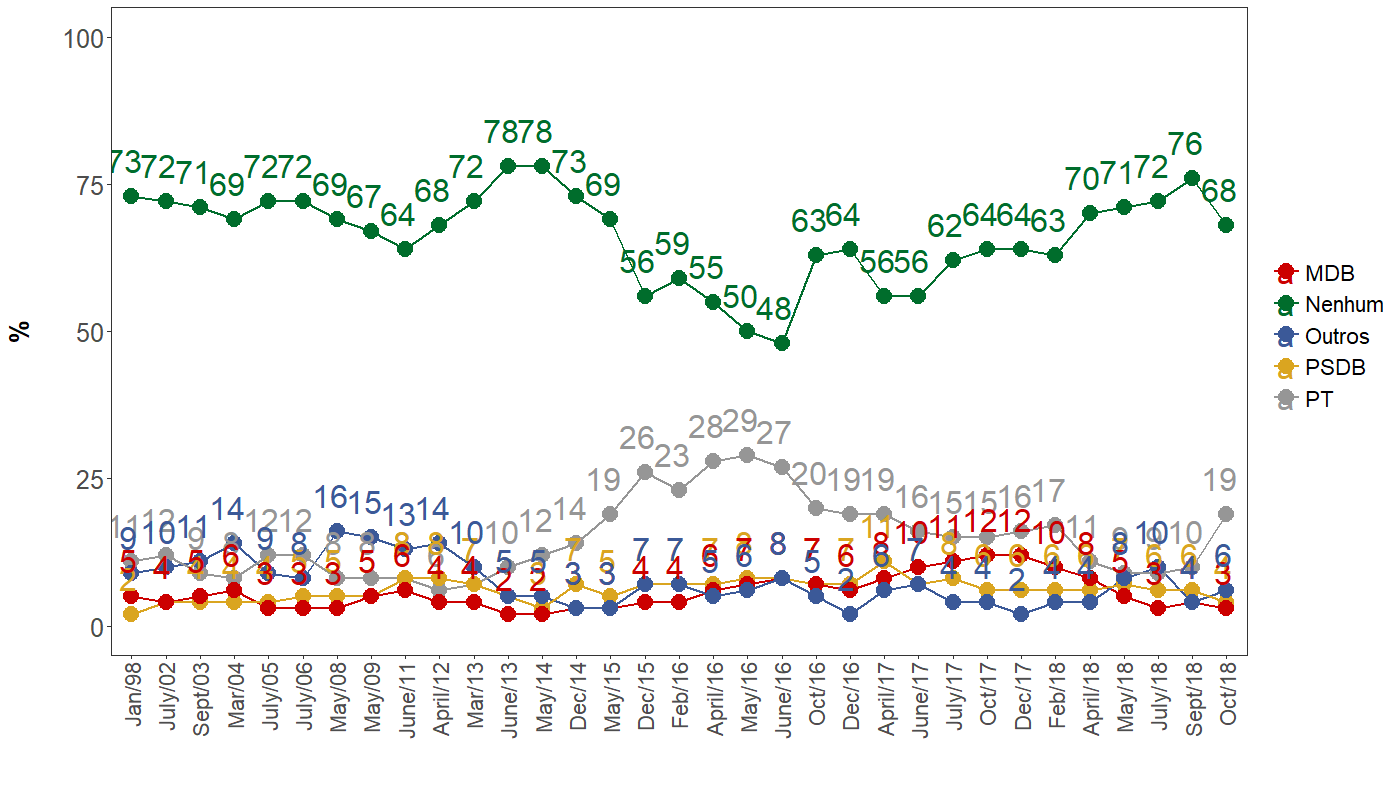 Source: Vox Populi, national surveys.
For the sake of comparison, Graph 3 below compares the results of polling firms Vox Populi and Datafolha. In this case, the question was always, "What is your preferred political party?"
Graph 3: Party sympathy/preference for the PT: comparison between polling firms Vox Populi and Datafolha
1994 – 2018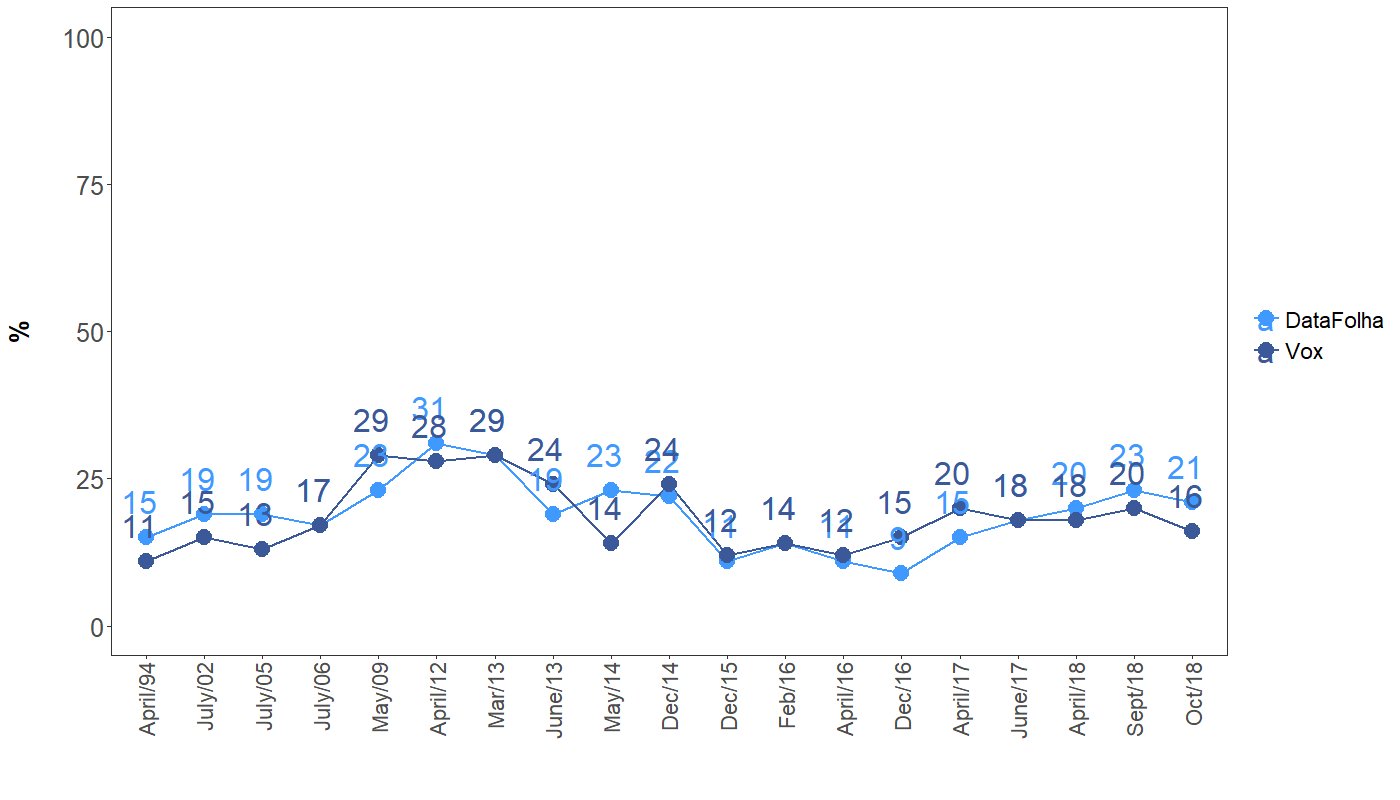 Sources: Vox Populi, national surveys; Datafolha: Zucco, C. and Samuels, D. "Petistas e antipetistas: PT domina a cena das preferências partidárias no Brasil", in Blog do Ibre, August 2, 2018.
The picture the two lines in the graph show is the same:
1) As from the late 1980s, the PT became the largest Brazilian party;
2) The number of PT supporters nearly doubled at the beginning of the first Lula administration;
3) Preference for the PT peaked during the first Dilma Rousseff government, after Lula's eight years in government;
4) The movements Brazilian society went through in 2013 and the intensification of denunciations against the party between 2012 and 2013 undermined this preference, but in 2014 the PT recovered with Rousseff managing to be reelected president;
5) Its lowest point was reached during the second Rousseff administration;
6) Once again the PT recovered after Rousseff's impeachment coup, regaining its historical size.
The same pattern can be noticed when the question regards the level of sympathy /distance in relation to the PT. In Graph 4 below, we see the answers to the question, "Which of the following statements best describes your feelings toward the PT?" (options were read to respondents), question which was first included in the questionnaires in 2015.
Graph 4: Feelings toward the PT
2015- 2018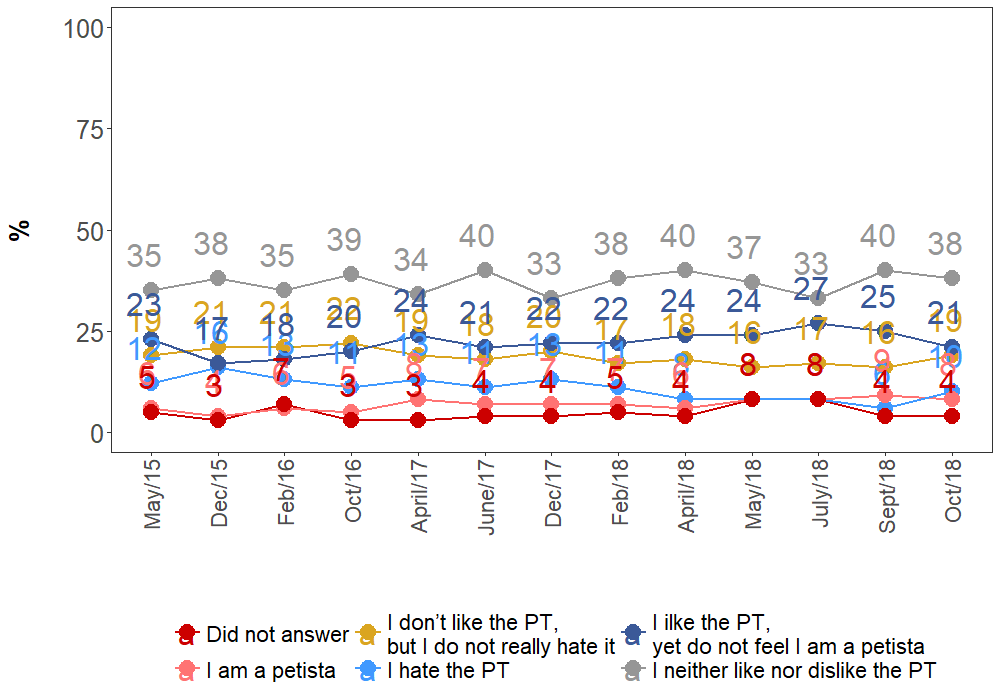 Source: Vox Populi, national surveys.
These numbers suggest that radical antipetismo, considered by many observers a typical feature of the more recent Brazilian political culture, is a key phenomenon, albeit smaller than imagined. Amid the election, with tempers exacerbated by polarization, only 10% of the voters said they strongly rejected the PT – almost the same proportion of those who said they were "petistas".
For greater clarity, we can aggregate the affirmative and negative answers, as shown in the next graph (Graph 5).
Graph 5: Feelings toward the PT, aggregated.
2015- 2018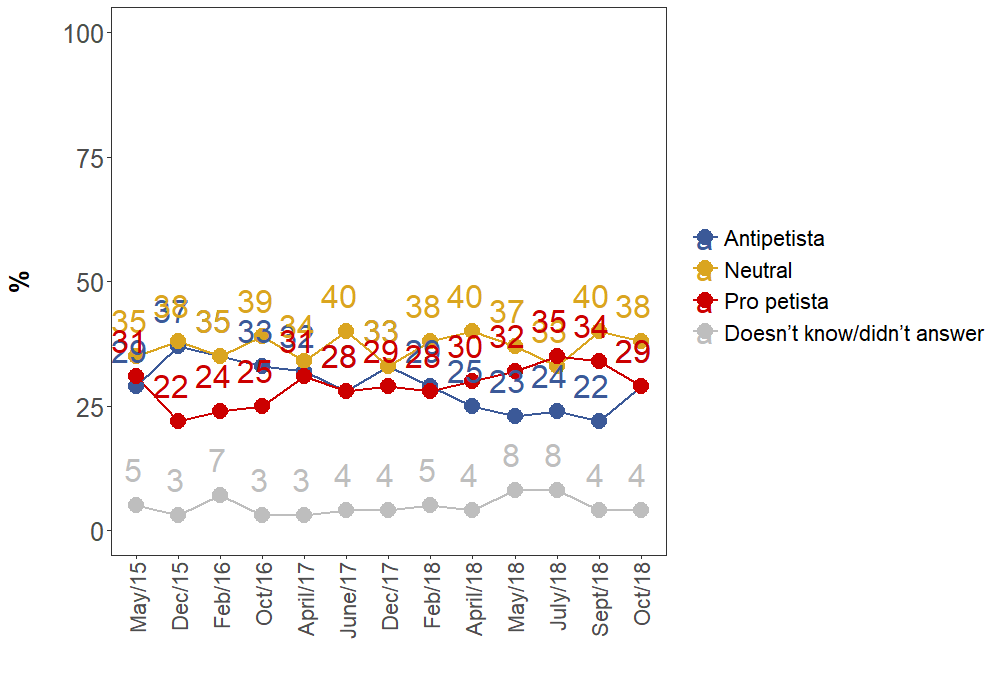 Source: Vox Populi, national surveys.
The two last graphs allow us to see that the highest point antipetismo reached was in December 2015, at the end of the first year of Rousseff's second term of office, declining after her impeachment and Lula's incarceration. It also indicates that feelings favorable to the party were going up in the final stretch of the election.
Unlike what some people believe and despite a growth in antipetismo in the run-up to the election, the polls show that Bolsonaro's win did not stem from a significant increase in PT rejection at the decisive moment of the electoral process.
In Graph 6, we can see the results of the answers to the same question as found by the Vox Populi daily tracking poll in the days preceding the first round of the election.
Graph 6: Feelings in relation to the PT, aggregated.
September and October 2018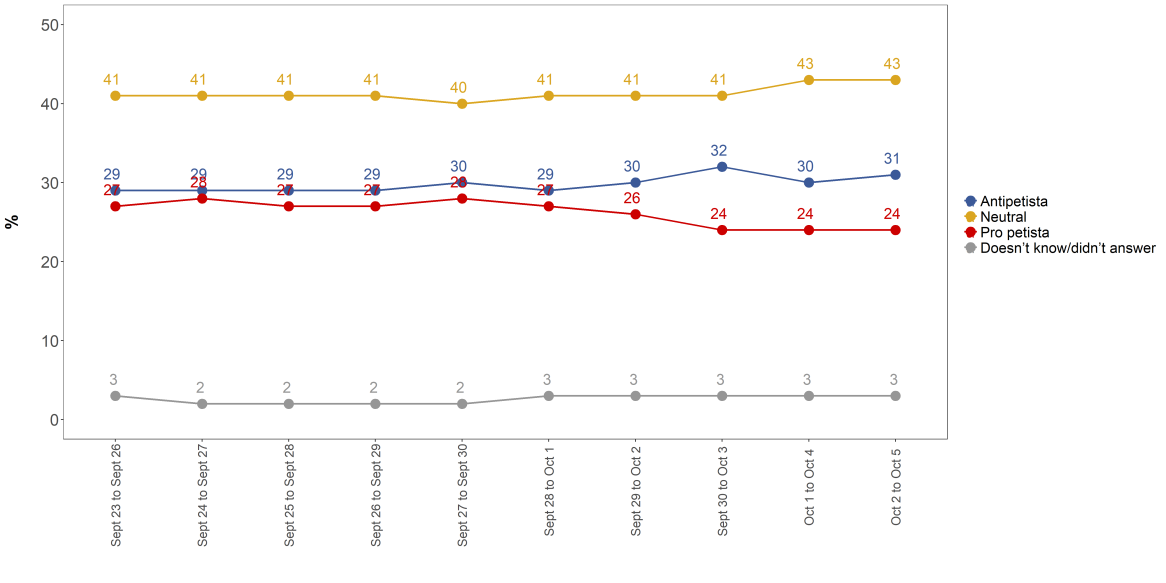 Source: Vox Populi, daily tracking poll, Sept/Oct 2018.
It is clear that, although pro-PT feelings declined slightly in these last days, antipetismo has not risen. From the point of view of attitudes toward the PT, the final stretch was marked by stability.
The most important reason for Fernando Haddad's defeat was not, from all indications, antipetismo, but, rather, the fabrication by fraudulent means of a personal rejection of the candidate. There is broad evidence of the illegal utilization of WhatsApp to reach some portions of the electorate, in particular the evangelical electorate.
In graphs 7 and 8 below, we can see how the voting decision-making process evolved over this period among Catholic and evangelical voters. Through them, we can see that the Catholic vote remained stable, while the evangelical vote rose atypically.
Graph 7: Evolution of voting intentions in the race between Bolsonaro and Haddad among Catholic voters
September and October 2018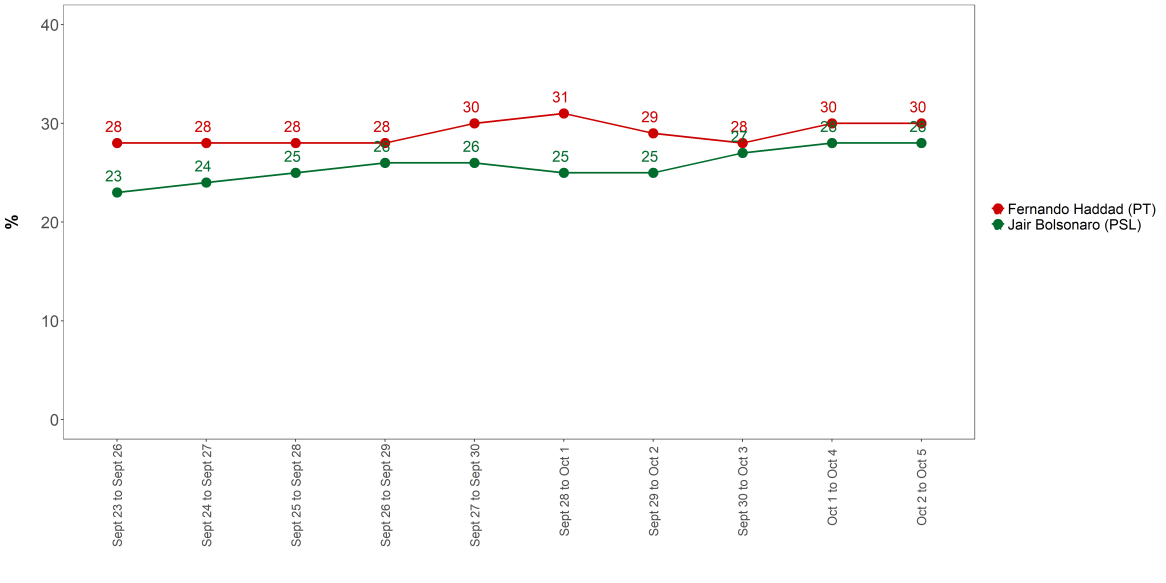 Source: Vox Populi, daily tracking poll, Sept/Oct 2018.
Graph 8: Evolution of voting intentions in the race between Bolsonaro and Haddad among evangelical voters
September and October 2018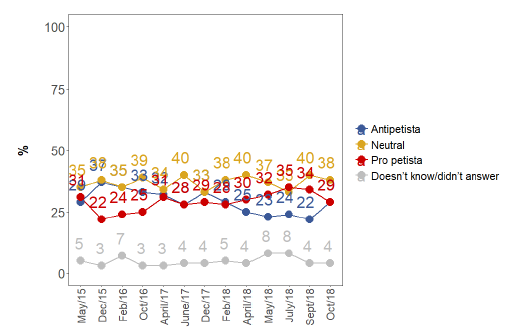 Source: Vox Populi, daily tracking poll, Sept/Oct 2018
Some suspect the use of evangelical voters' files that were made available by neo-Pentecostal leaders involved in the Bolsonaro campaign, which made it possible to send highly negative messages against Haddad, charging him with, among other things, pedophilia. It is estimated that the target audience of the campaign was 20% of the electorate.
Haddad lost because he was the victim of an immoral cyberattack, illegal from the point of view of the Brazilian law, and not because of antipetismo.
It is worth, however, considering an aspect that the numbers posted suggest. Although the old division of the Brazilian electorate in the three segments mentioned by Duda Mendonça still holds true, that is, that antipetismo and petismo support is basically equivalent, in spite of all the weakening of Lula and the PT and the systematic opposition of the corporate media against both, poll data signal that the PT should strengthen dialogue with neutral and nonpartisan voters.
Bolsonaro's inability to exercise legitimate leadership and his incompetent administration increase the odds that this dialogue will succeed. However regrettable the result of the 2018 election was, it seems that the Brazilian democracy will recover from this hiccup more rapidly than we had feared.
[1] PT, from the Portuguese acronym for Partido dos Trabalhadores, or Workers' Party, gave rise to the word petista, a PT supporter, and petismo.