Monica Valente: "La lucha es por Lula y por la democracia"
Confira a entrevista da secretária de Relações Internacionais do PT ao L'Ombelico del Mondo
Publicado em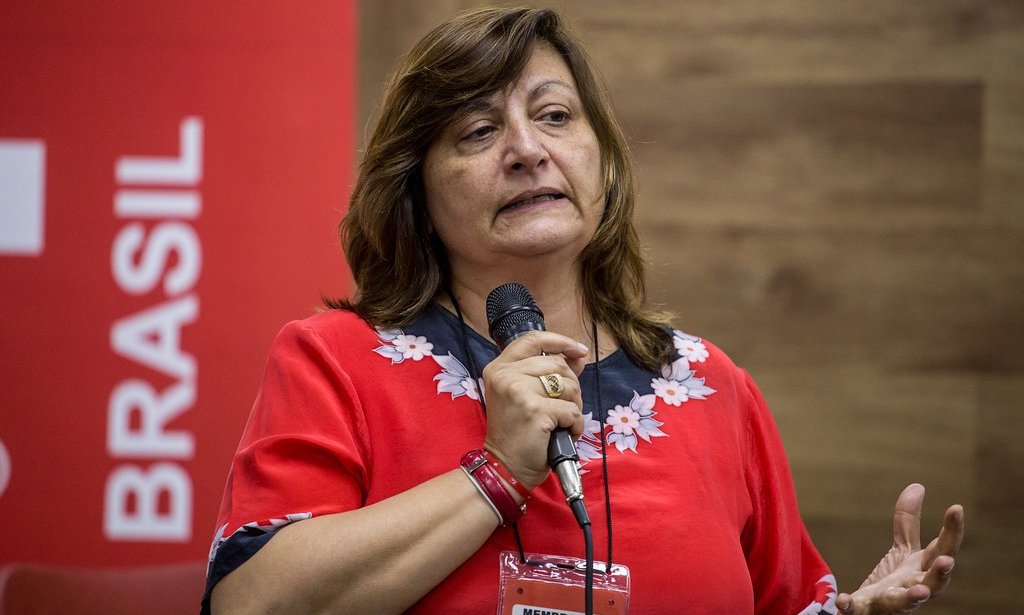 Hace más de 400 días que el ex presidente de Brasil Lula da Silva se encuentra en prisión, luego de haber sido condenado por un caso de corrupción relacionado con el Lava Jato. Desde un primer momento, el Partido de los Trabajadores (PT) denuncia que el verdadero motivo de su encarcelamiento es una persecución político-judicial que buscó imposibilitarlo de competir en las últimas elecciones presidenciales. Una defensa que en los últimos días se vio confirmada por las revelaciones realizadas por el sitio web The Intercept Brasil. La esperanza de cambiar su actual condición volvió a crecer hace unos días cuando el Supremo Tribunal Federal (STF) trató un hábeas corpus presentado por su defensa, pero no duró mucho porque la Corte decidió postergar el debate para el futuro y que el ex presidente siga detenido.
Sobre esta actualidad que vive el gigante sudamericano, L´Ombelico del Mondo dialogó con Mónica Valente, secretaria de Relaciones Internacionales del PT, dirigente sindical y ex vicepresidenta de la Central Única de los Trabajadores (CUT). Creo firmemente que en agosto vamos a lograr liberar a Lula–, dijo Valente, y analizó –: La lucha es por Lula y por la democracia.
–¿Desde el PT tenían esperanzas en un fallo favorable del STF para Lula da Silva?
–Sí, porque desde que comenzaron el proceso judicial contra Lula estamos diciéndole al mundo que es una persecución política. Hace cuatro semanas, nuestra opinión se confirmó por las revelaciones del sitio web The Intercept. Está cada vez más claro que el ex juez Moro actuaba para condenar a Lula y sacarlo del proceso electoral, porque si no fuera de esta manera Lula sería el presidente.
Tuvimos esperanza porque los hechos divulgados por The Intercept confirman las tesis jurídicas de la defensa de Lula de una manera incontestable. A pesar de que el juez Celso de Mello no haya votado por la liberación inmediata de Lula, él no entró en el mérito del tema presentado por los defensores de Lula, que es que el ex juez Moro no podría juzgar el proceso contra Lula porque era parte de la acusación. El magistrado habló solamente de la liberación inmediata de Lula, sin entrar en el mérito de la verdadera cosa. Creo firmemente que en agosto vamos a lograr liberar a Lula porque cada cosa que decimos se confirma con las revelaciones de The Intercept.
–A pesar de este fallo contrario, ¿creen que Lula podría salir de la cárcel de forma transitoria a partir de septiembre gracias al régimen semiabierto?
–Desde que la Suprema Corte de Justicia ha disminuido la condena de Lula en septiembre, naturalmente, él puede ser liberado con el régimen semiabierto. Eso es cierto porque así es la ley. Y porque de los 12 años de condena, la Suprema Corte ha disminuido a poco más de 8 años y, en un año y pocos meses que cumplirá en septiembre, ya tendrá el derecho de migrar de un régimen de encarcelamiento hacia otro que es un régimen que prevé que pueda salir, trabajar, recibir personas y hablar con la gente. Lo único que necesitaría sería por la noche quedarse en su casa.
Nosotros queremos más que eso porque sabemos que Lula es inocente y ahora queda claro que su condena fue una persecución. Vamos a seguir luchando por la anulación de su condena porque no fue un proceso normal. Moro en su fallo de condena no logra identificar ningún acto de corrupción que Lula haya hecho para ser condenado. El ex juez habla de "actos indeterminados". En ninguna parte del mundo democrático, en ninguna sociedad democrática alguien es condenado por "actos indeterminados". Eso no existe en las democracias y en los sistemas judiciales justos. Tenemos la esperanza de anular la condena de Lula pero, independientemente de eso, en septiembre la defensa de Lula va a solicitar cambiar el régimen de encarcelamiento porque es un derecho que él, como cualquiera otra persona, tiene garantizado por la ley. Lo que nos interesa a nosotros es la anulación de los juicios porque cada día queda claro que no hay crimen y que Lula es inocente. Esta es una lucha de largo plazo, lo sabemos, pero no vamos a desistir.
En septiembre, ya tendrá el derecho de migrar a un régimen de encarcelamiento que prevé que pueda salir.
–Hace unos días hablamos con Renato Simões y nos dijo que el Poder Judicial no actuó solo y que había otros sectores involucrados en su condena. ¿Usted coincide? ¿De qué sectores estaríamos hablando?
–Nuestro compañero Renato Simões tiene razón. No es solamente la 13ª Cámara Criminal de Curitiba, que es donde el ex juez Moro era el titular, la que ha hecho esta tramoya contra Lula. Hay algunas ramificaciones en el Tribunal Regional Federal n° 4, en tanto que el fallo contra Lula fue confirmado por el TRF4, cuyo presidente es el padrino del hijo de Moro. En el TRF4 también hay un ramificación del aparto judicial brasileño para corroborar la sentencia de primera instancia, lo que significó una condena en segunda instancia que, por una maniobra de parte del aparto judicial, con la presión de militares, ha retornado en un encarcelamiento inmediato, cuando en el 2017 no logramos retardar el encarcelamiento de Lula en la Suprema Corte. Porque la Constitución brasileña dice que uno solo puede ser encarcelado después de que todos los recursos sean juzgados, y Lula y muchos otros no pasaron hasta el fin del proceso. Por lo tanto, todavía hay otros recursos judiciales.
Además, cuando se realizó el pedido para que Lula no sea encarcelado en el 2017 hubo un juicio en la Suprema Corte, y tuvimos el absurdo de que un General del Ejército, el General Eduardo Villas Bôas, que fue padrino de la candidatura de Jair Bolsonaro, haya hecho declaraciones diciendo que si Lula ganaba ese recurso en la Corte íbamos a tener un proceso de convulsión social. Una clara presión sobre la Corte. En ese juicio, una de las 11 juezas, Rosa Maria Weber, votó en contra de su propia opinión divulgada muchas veces en otros juicios, y votó para no permitir que Lula esperara su condena final sin ser encarcelado. Una jueza que siempre votó en sus juicios de una manera garantista y que, en ese caso específico, frente a la declaración del General dijo que iba a votar junto a los magistrados de la Corte aunque ella pensaba lo contrario. Además de algunas ramificaciones en el aparto judicial, también hay influencias por parte de algunos militares.
Este proceso es complejo y es un proceso que indica que hay parte expresiva del aparto institucional brasilero que se comporta de manera antidemocrática, y nuestra democracia es nueva y joven. Nosotros no logramos hacer lo que hicieron en Argentina que fue el haber pasado a limpio la historia de la dictadura militar. Seguramente son herencias nefastas que tenemos desde esa época. No logramos construir instituciones democráticas fuertes e inmunes a ese tipo de presión, pero así es la lucha. Seguimos luchando no solo para la libertad de Lula, que es muy importante, sino también para fortalecer la democracia brasilera, que hoy se encuentra en riesgo. Si pueden encarcelar a un hombre como Lula que fue presidente, sin ninguna comprobación de sus crímenes, ¿qué pasa con las personas comunes que no tienen esta visibilidad? La lucha es por Lula y por la democracia.
–¿Existe una estrategia del PT para extender el reclamo a nivel jurídico por fuera de las fronteras de Brasil, para tratar de dar solución a este proceso contra Lula?
–El Comité de Derechos Humanos de la ONU sigue el proceso de Lula. Es el mismo que había recomendado que Brasil permitiera la inscripción de Lula como candidato, y que las instituciones brasileras no obedecieron. En aquel momento, fue una decisión preliminar para garantizar el derecho humano de Lula de inscribirse como candidato. Ahora, el mismo Comité sigue juzgando el caso Lula. Había una expectativa nuestra de que el caso Lula volviera a dicho Comité en el mes de mayo, pero como ha cambiado el gobierno y Bolsonaro ha interpuesto otras informaciones, el Comité postergó para septiembre el tratamiento. La defensa de Lula en el exterior, luego de las revelaciones de The Intercept, ha presentado nuevos hechos que corroboran la tesis de la persecución judicial. Seguimos con la expectativa de que el Comité pueda apreciarlo cuanto antes. Sabemos que los procesos judiciales internacionales son más lentos porque hay que tener mucho cuidado y mucha precisión, pero tenemos la esperanza. Si lográramos el fallo favorable a Lula en el Comité será la primera vez que el país sea condenado por violar los derechos humanos de civiles y de las personas.
Además de eso, hay muchas iniciativas internacionales. El Premio Nobel de la Paz de la Argentina, Adolfo Pérez Esquivel, por su propia iniciativa ha presentado la candidatura de Lula como Premio Nobel de la Paz. Eso fue muy importante. No solo como reconocimiento de la inocencia de Lula sino, también, por su trabajo por los derechos humanos en Brasil y en el mundo como el combate a la pobreza y la construcción de la paz en Brasil y América Latina. Esta propuesta ha logrado muchas firmas por todo el mundo, más de 600 mil personas y personalidades han firmado esta indicación que también nos ayuda porque es un reconocimiento internacional.
–¿Cuál su visión como encargada de las relaciones internacionales del PT del encarcelamiento de un militar brasilero en Sevilla, que era parte de la comitiva oficial que se dirigía al G20 en Osaka, por transportar 39 kilos de cocaína? ¿Cómo analiza la política exterior del gobierno de Bolsonaro?
–Desde que Bolsonaro ha sido electo parece, por sus posturas, sus discursos y sus iniciativas, que hay una especia de "licencia" para delinquir y para matar, como es el proyecto de armamento de la población. Eso explica el absurdo de que un militar del equipo de la presidencia pueda transportar en el avión presidencial 39 kilos de cocaína. Es la certeza de la impunidad, la certidumbre de que no va a ser condenado. Es una vergüenza para nuestro país. No es la primera vergüenza que pasamos desde que este presidente ha tomado posesión. Nos entristece mucho que nuestro país, después de años gloriosos, tengamos que pasar esta vergüenza por este gobierno autoritario.
Bolsonaro ha dicho que su gobierno será un gobierno que volverá a obedecer lo que el gobierno de los Estados Unidos quiera. Eso es un retroceso muy grande. Toda su política externa va en ese sentido: destruir la participación brasilera en la construcción de los organismos multilaterales y criticar la política externa altiva que tuvimos en años anteriores. Es una pena que la población tenga que pasar por esto y por la pérdida del protagonismo que significa el gobierno de Bolsonaro.
Disponível em: L'Ombelico del Mondo